Chicken or Pork Adobo is authentic Filipino dish and one of the most recognized Filipino food.  I make my own version of it with potatoes haha and it turned out delicious . My husband loves it and I do hope you like it too! guys! 🙂
I'll share you guys how I cooked my very own Adobo recipe 🙂 Oh! btw you can also use pork, seafood or even vegetables too 😉  if you didn't feel like eating chicken then you can choose alternative.  Feel free to try this out! so easy to cook and the ingredients are not much as long as you have vinegar and soysauce then you can cook adobo 🙂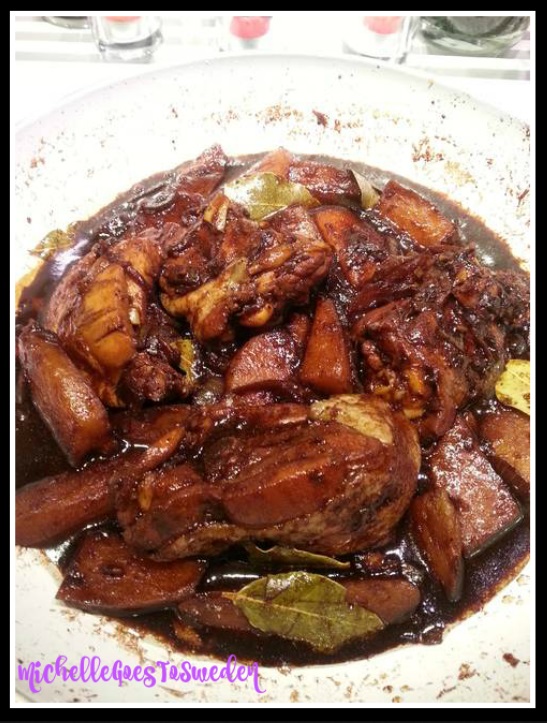 Adobo taste even better the next day LOL because it's vinegar based dish 😉 It also keeps well in the fridge 
INGREDIENTS : 
4 piece chicken breasts/ cut into serving pieces

3 piece dried bay leaves

1 (3-4) tbps vinegar (any brand but I like cane vinegar)

2 medium size potato (cut into cube or flat)

3 clove garlic crushed (minced)

1 onion chopped

1 cup water

sugar, salt and pappercorn (to taste)

1 tbsp butter (optional) it adds taste and good smell when you frying the chicken
 Fry FIRST the potatoes because it taste much better if you fry it and when it turned out brown set it aside.
Then fry the chicken with the oil and add little butter. Cook all of the sides for about 5 minutes
When the chicken is cooked you can now put the onion and galic. Simmer for 2-3 minutes
Put soy sauce, bay leaves, 1 cup of water and peppercorn.  Boil it  for 30 minutes or until the chicken is tender.
Put the fry potatoes, add vinegar, sugar and salt (to taste). Stir and cook for another 5 minutes. Served hot and enjoy! Best to served with hot cooked rice on the plate.. 🙂
Let me know guys what you think about my recipe 🙂 and hope you have time to cook it and I'll tell you it is so delicious and yummy! You will forget all your problem and all you feel is your happy tummy! Let's eat guys! Bon Appetit!
Want to earn extra income from posting online? Be an affiliate -magpost & share ka lang sa social media mo at kikita ka na.
Sign up here👉: https://invol.co/cl8ic5b
♥ BUY in LAZADA Together Lights Up the Moment : Up to 17% OFF + FREEBIES worth 1499
👉https://invol.co/cl589iq
👉 https://invol.co/cl2k12o
♥ Would you like to shout me a cup of coffee ☕️
https://www.buymeacoffee.com/kyutipieMisay
https://www.paypal.com/paypalme/KyutipieMisay
🍭I have made a Patreon account:
Become a Patron!
https://www.patreon.com/Kyutipie_Misay
SUBSCRIBE ka na please 🙂 libre lang namn hihi Salamat :⬇️
https://www.youtube.com/channel/Kyutipie_Misay
https://www.youtube.com/channel/Kyutipie_Misay
DISCLAIMER: Items were purchase with my own money unless otherwise stated. All opinions are honest and my own!. This post contains affiliate links, which means I may receive a small commission for clicks and purchases made.
I hope you all enjoyed watching my video and if you did please don't forget to tap my back with BIG like 👍 and subscribe if you haven't yet.
PLease leave comment down below. I would be happy to read it all ..💜💋


🌼Support donation🌼
Running a blog & Youtube takes a lot of time, money and effort. Become a part of a selfless patron by buying me a coffee ☕ or sponsoring a post is really a big help! Your support is highly appreciated and it really means a lot to me. I DO Thank you 🙂
☀Other Videos you can watch☀
💋 OUR HOUSE JOURNEY FROM TRIPPING TILL NOW
https://www.youtube.com/watch?v=o0ZTSvATWxw&t=25s
https://www.youtube.com/watch?v=eZbiAYWrcjs&t=307s
https://www.youtube.com/watch?v=nnTJMVCxfI8
💋 MAKEUP TUTORIAL-AUTUMN MAKE-UP LOOK NI INDAY
https://www.youtube.com/watch?v=utTw6xtQB14
https://www.youtube.com/watch?v=N95jCZHVoJI
💋 FOOD RECIPE – HOMEMADE BOTTLED TUYO | GOURMET TUYO
https://www.youtube.com/watch?v=ZkJsKiqB3uk
💋 REVIEW -URBAN DECAY BEACHED PALETTE|TAGALOG Review & Swatches
https://www.youtube.com/watch?v=VFd92whuW64
💋 YOUTUBER TAG – MADAMING NaIISIP NA IDEA SA KUKOTE
https://www.youtube.com/watch?v=4GKb-Ba-G4s
💋 VIDEO HAULS -UKAY-UKAY BIRTHDAY HAUL | KappAhl, Zara & Ginatricot
https://www.youtube.com/watch?v=tR9r-Ix2Nl8
💋 TRAVEL VIDEO – STOCKHOLM | | Drottningholm & Kungliga Slott | Vasa Museum
https://www.youtube.com/watch?v=4tojuuUnCb4
https://www.youtube.com/watch?v=30Ml6ZR_tB4
☀ FOLLOW ME sa Social Accounts KO:
INSTAGRAM:  https://www.instagram.com/mitchhy2002/
TWITTER: https://twitter.com/mitchhy2002 
https://mitchhy2002.com/
https://mitchhy2002.blogspot.se/
********************************************************************
I'm open for product reviews/ sponsorship/ ads and collaborations etc. please email me at:  MITCHHY2002@GMAIL.COM
********************************************************************
☀ What Equipment I used:
Camera : Canon G7x markII
Software Editor: Adobe Premiere ProCC-2015
Thumbnail Editor: https://www.befunky.com/
❤ See you on my next video ko po 😉
Take care mmmwuah! ❤
********************************************************************