August 📝 is our last month of SUMMER here in Sweden.  Yep it is real! Swedish fall start from September to October so  it only means that dark season rather COLD season will come pretty soon ❄ . In this time of the year also we are really prone to have a dry skin from head to toe especially on our lips 💋  which I really don't like at all. Luckily, we can take care of our lips now with some homemade lip scrub 😉  so why buy expensive lip scrub if you can make it at home right?  just explore your kitchen.
While it is easy to notice dry skin on our body like our legs and arms and even our scalp, we often forget that our lips are skin too. Our lips need to exfoliate, treated and moisturize too because when cold and dry weather is ON, our lips are completely dry and easily become chapped  and rough.
Your homemade lip scrub can be flavored to your own specifications or whatever fruits you have at home. Since I have Kiwi at home I decided to use it as a flavor of my lip scrub 😉. Also, I search online that Kiwi is a great natural exfoliant.
Lets Start Making KIWI Lip Scrub: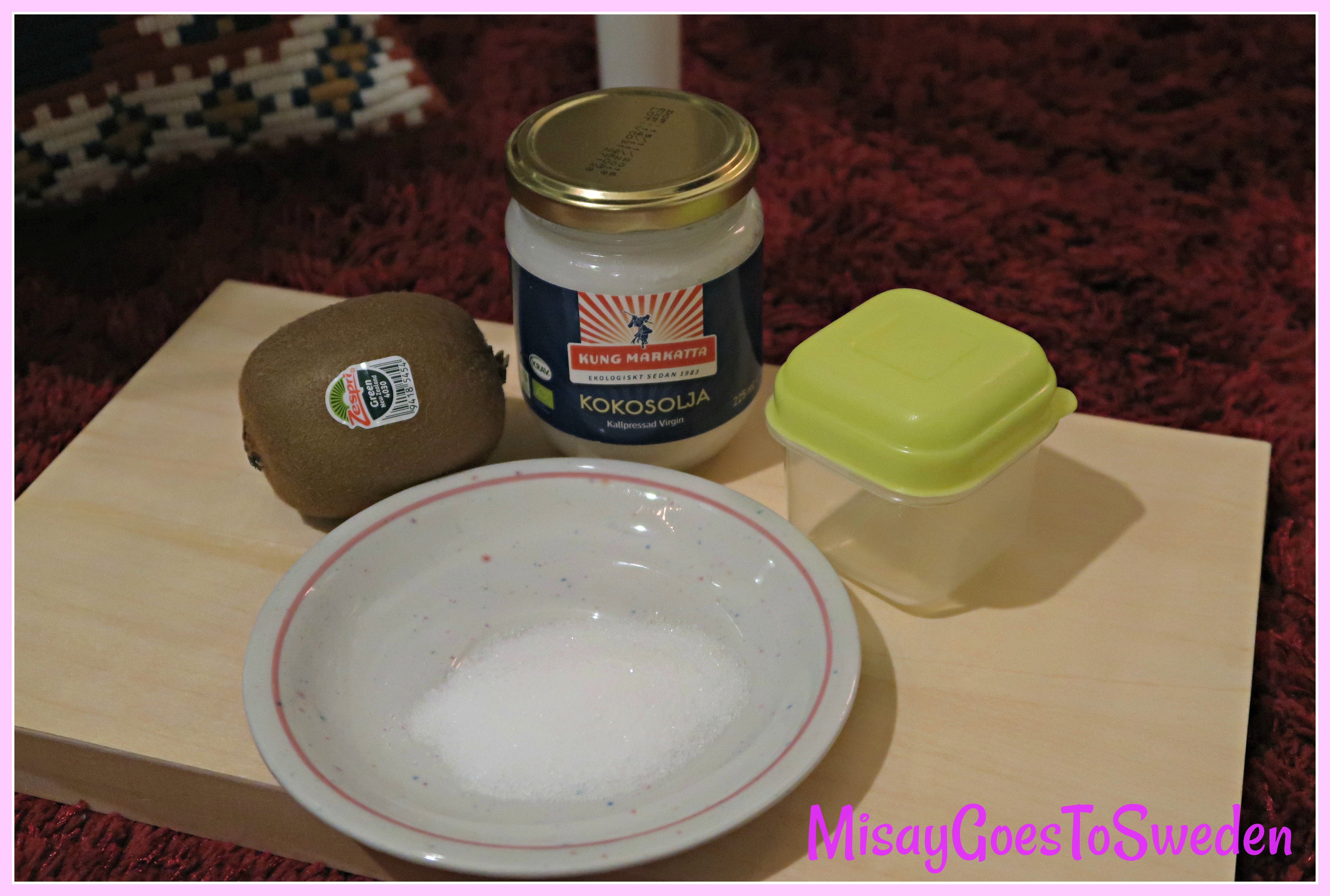 You only need three ingredients to make your own homemade lip scrub 
🌻 Sugar (normal sugar)
🌻 Coconut oil (Kung Markatta Kokosolja Virgin)
🌻 Kiwi  (you can use half of it or it depends if you only want to make small amount of lip scrub)
Just mix them all together until well combined (mashed your kiwi, coconut oil and sugar)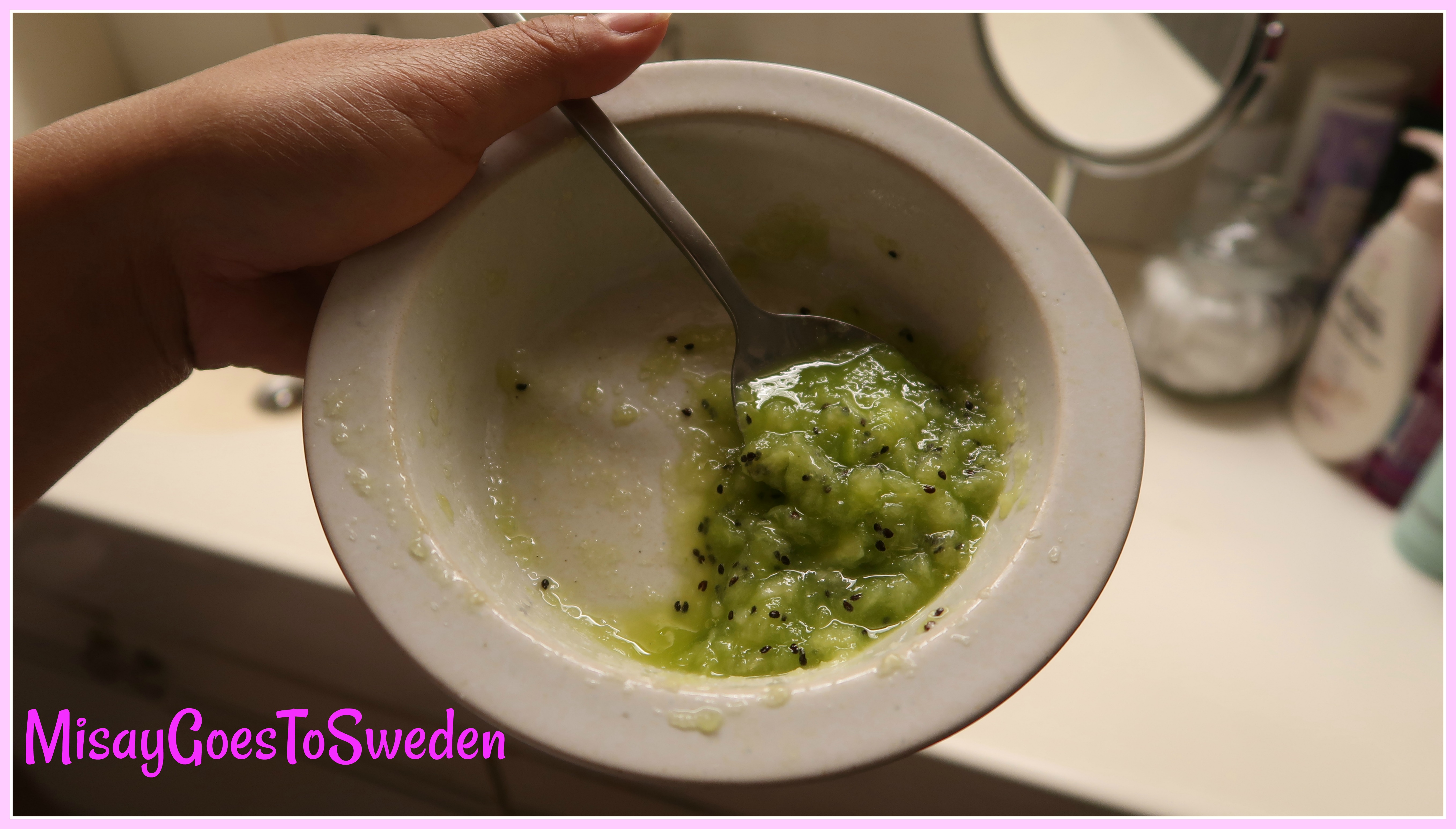 I use half of the Kiwi because I want to make big amount of scrub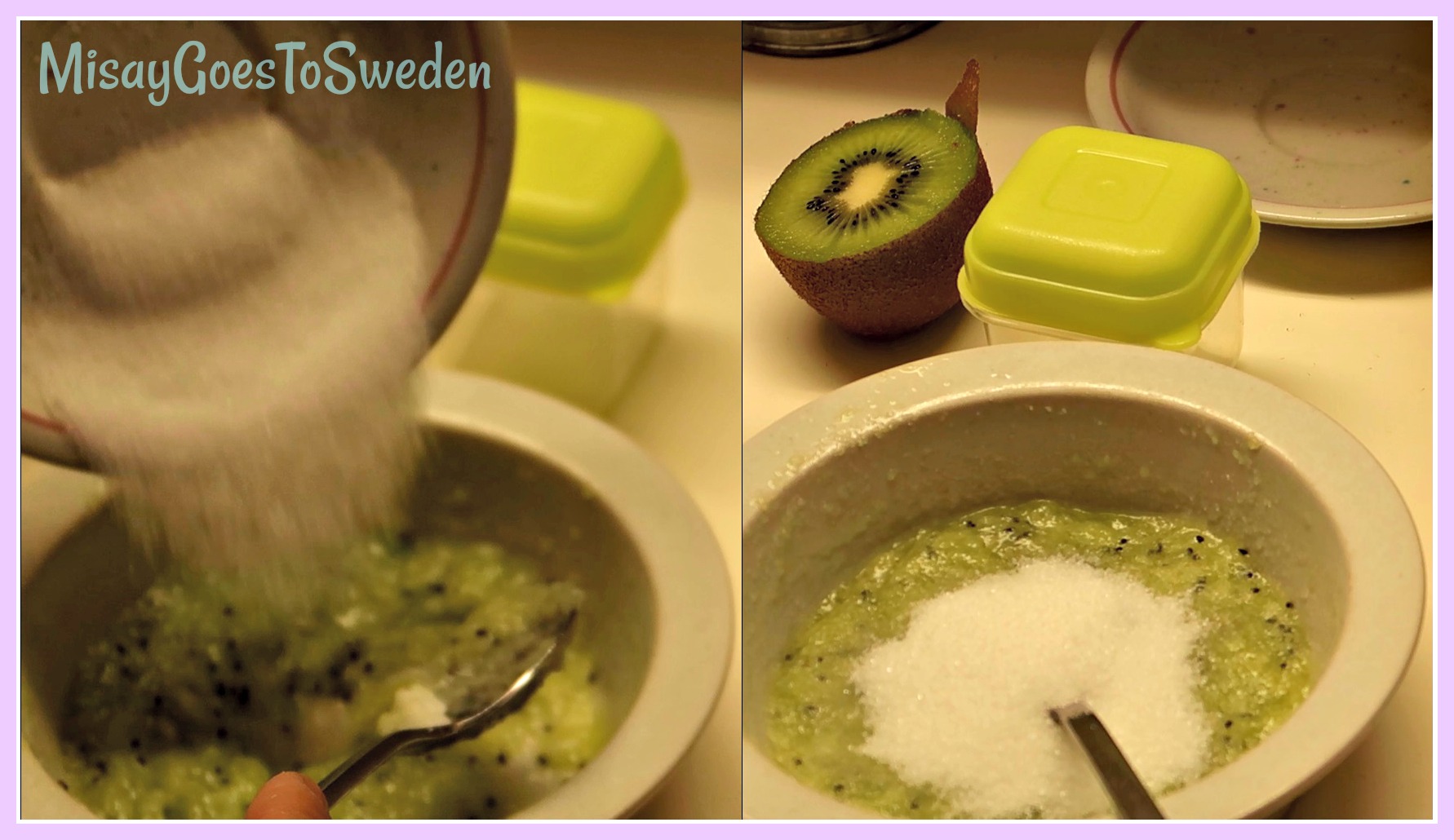 I use 4 tbsp of sugar in order to achieve the right consistency that is paste look like!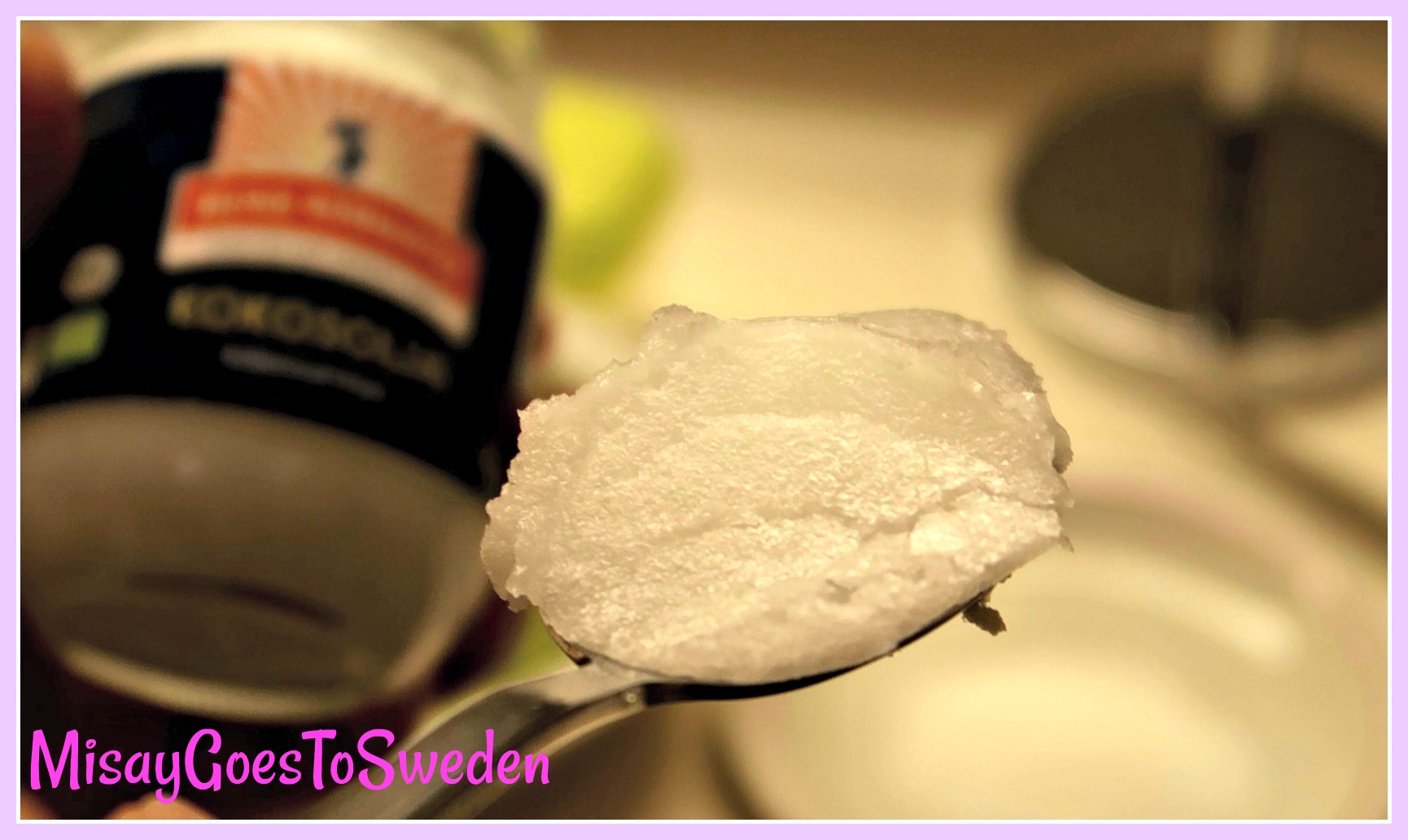 1 tbsp of coconut oil is enough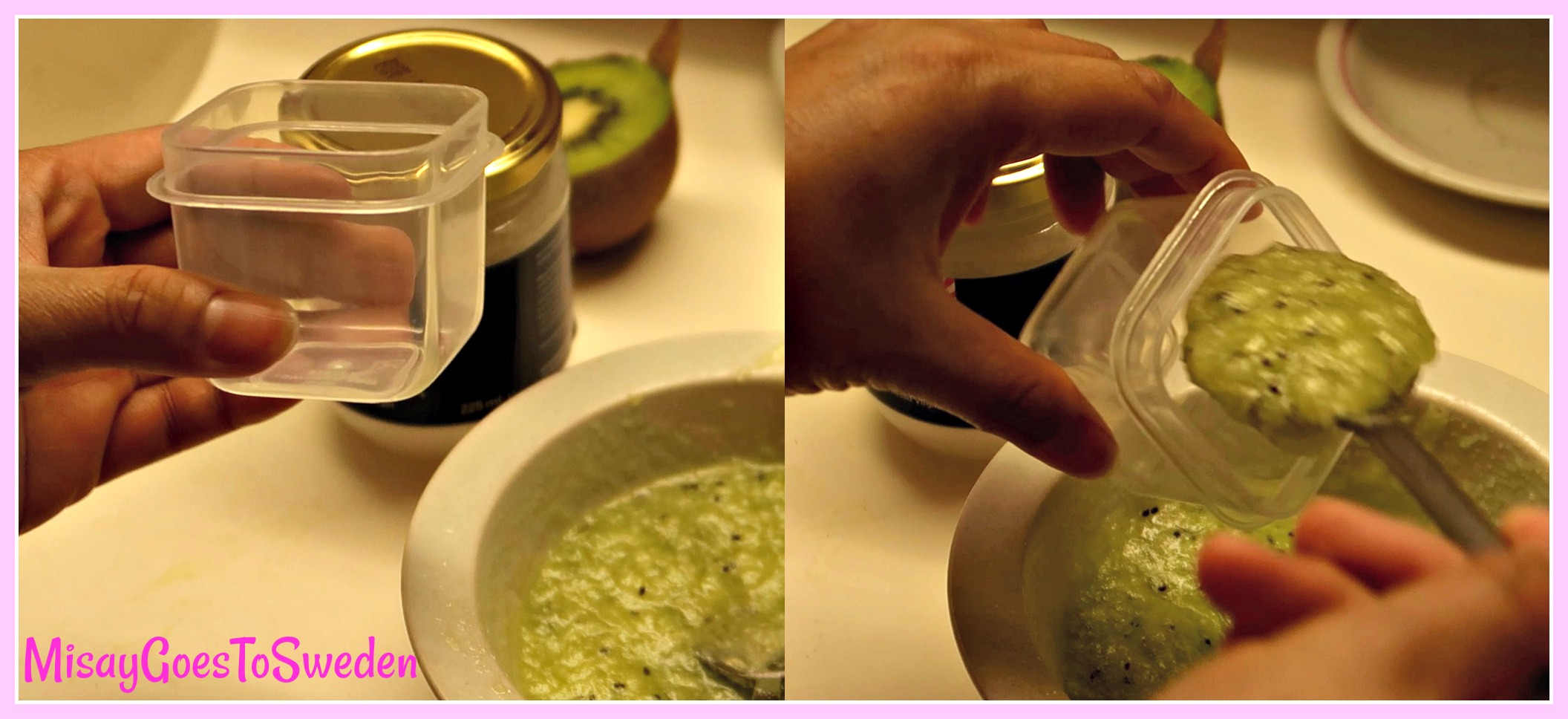 I just mix them all together and put it in a small container.
Notes:
You can use this scrub on your face and neck, too! It makes a really great face scrub!

How to use:
Apply a small amount to your finger. Using your finger,  gently rub your lips in small circular motions for about 30 seconds to loosen the dead skin cells. Just to remind you guys! that our lips is very sensitive so, if you rub the sugar too hard on it, it can chap your lips. Be gentle hehe
Rub off with a washcloth or paper towel. You don't need to wash it with water since it has coconut oil that serve as moisturizer 👍

 It works well on me and I really like the smell and the taste of it. I have been using it so much now 😉 . 

Look the difference before and after I use my lip scrub! My lips looks alive and healthy than before hahaha! I feel it also moisturized and soft!
If the weather is so hot, keep in a cool place but do not refrigerate it  because it can make it hard  for future use LOL. I know it will last long for a week because I use coconut oil on it.
I will recommend you to make your own lip scrub at home. Simple, effective, fun and cheap! You can save money than buying it every month. You can also use it daily, but you'll most likely find that you don't need to do it that often because it is really effective in just one use. I will show you next time when I use it as my facial scrub 😉 
So enjoy scrubbing guys!! 🙂
Want to earn extra income from posting online? Be an affiliate -magpost & share ka lang sa social media mo at kikita ka na.
Sign up here👉: https://invol.co/cl8ic5b
♥ BUY in LAZADA Together Lights Up the Moment : Up to 17% OFF + FREEBIES worth 1499
👉https://invol.co/cl589iq
👉 https://invol.co/cl2k12o
♥ Would you like to shout me a cup of coffee ☕️
https://www.buymeacoffee.com/kyutipieMisay
https://www.paypal.com/paypalme/KyutipieMisay
🍭I have made a Patreon account:
Become a Patron!
https://www.patreon.com/Kyutipie_Misay
SUBSCRIBE ka na please 🙂 libre lang namn hihi Salamat :⬇️
https://www.youtube.com/channel/Kyutipie_Misay
https://www.youtube.com/channel/Kyutipie_Misay
DISCLAIMER: Items were purchase with my own money unless otherwise stated. All opinions are honest and my own!. This post contains affiliate links, which means I may receive a small commission for clicks and purchases made.
I hope you all enjoyed watching my video and if you did please don't forget to tap my back with BIG like 👍 and subscribe if you haven't yet.
PLease leave comment down below. I would be happy to read it all ..💜💋


🌼Support donation🌼
Running a blog & Youtube takes a lot of time, money and effort. Become a part of a selfless patron by buying me a coffee ☕ or sponsoring a post is really a big help! Your support is highly appreciated and it really means a lot to me. I DO Thank you 🙂
☀Other Videos you can watch☀
💋 OUR HOUSE JOURNEY FROM TRIPPING TILL NOW
https://www.youtube.com/watch?v=o0ZTSvATWxw&t=25s
https://www.youtube.com/watch?v=eZbiAYWrcjs&t=307s
https://www.youtube.com/watch?v=nnTJMVCxfI8
💋 MAKEUP TUTORIAL-AUTUMN MAKE-UP LOOK NI INDAY
https://www.youtube.com/watch?v=utTw6xtQB14
https://www.youtube.com/watch?v=N95jCZHVoJI
💋 FOOD RECIPE – HOMEMADE BOTTLED TUYO | GOURMET TUYO
https://www.youtube.com/watch?v=ZkJsKiqB3uk
💋 REVIEW -URBAN DECAY BEACHED PALETTE|TAGALOG Review & Swatches
https://www.youtube.com/watch?v=VFd92whuW64
💋 YOUTUBER TAG – MADAMING NaIISIP NA IDEA SA KUKOTE
https://www.youtube.com/watch?v=4GKb-Ba-G4s
💋 VIDEO HAULS -UKAY-UKAY BIRTHDAY HAUL | KappAhl, Zara & Ginatricot
https://www.youtube.com/watch?v=tR9r-Ix2Nl8
💋 TRAVEL VIDEO – STOCKHOLM | | Drottningholm & Kungliga Slott | Vasa Museum
https://www.youtube.com/watch?v=4tojuuUnCb4
https://www.youtube.com/watch?v=30Ml6ZR_tB4
☀ FOLLOW ME sa Social Accounts KO:
INSTAGRAM:  https://www.instagram.com/mitchhy2002/
TWITTER: https://twitter.com/mitchhy2002 
https://mitchhy2002.com/
https://mitchhy2002.blogspot.se/
********************************************************************
I'm open for product reviews/ sponsorship/ ads and collaborations etc. please email me at:  MITCHHY2002@GMAIL.COM
********************************************************************
☀ What Equipment I used:
Camera : Canon G7x markII
Software Editor: Adobe Premiere ProCC-2015
Thumbnail Editor: https://www.befunky.com/
❤ See you on my next video ko po 😉
Take care mmmwuah! ❤
********************************************************************