So for today's post is going to be about this teeny weeny cute little perfume gift set from Lancome, which I think would be the perfect gift or beauty treat to your love ones this coming Christmas :). As we all know that perfume is a little bit expensive RIGHT? and it depends how big you like and what brand you are eyeing to purchase. Arrggh! but I want one! LOL so recently! I was browsing online at kicks.se just to list down all the things I wanted this coming Christmas and I am looking for a new perfume! Yup! I like to have new perfume but its very hard for me to choose what I like plus I am not 100% sure what kind of scent I'd like to go for. Not only that! the bigger the perfume the higher the price too LOL!!😭 so I'm scared that I might buy one big size and ended up not loving it right?.
BUY ONLY ORIGINAL LANCOME HERE IS LEGIT LANCOME VERIFIED STORE in LAZADA : 
Shop in LANCOME STORE now at LAZADA  👉 https://invol.co/cl9cb4l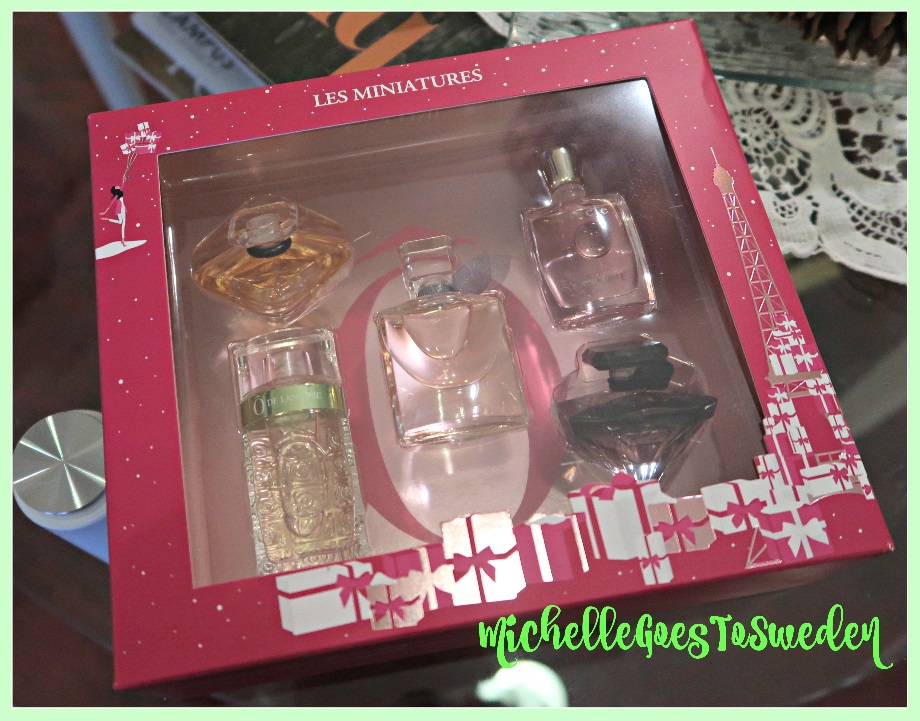 Lancôme Mini Eau de Parfum Fragrance Gift Set
Then, I saw this mini fragrance set from Lancome Les Miniatures.  For only 299kr Swedish crown this set is beautifully presented with five gorgeous little perfumes from Lancome range ( I had the Miracle before when I was in Philippines I like it but the scent didn't last long). Within the gift set you'll get the following fragrances, Tresor Edp 7.5ml, La Nuit Tresor EdP 5ml, O De Lancome EdT 7.5ml, La Vie Est Belle 4ml and Miracle EdP 5ml.
The packaging of the perfume itself is so cute and neat! well! expected it from the brand Lancome 😉 who always go out their way to make luxurious packaging for their products even if it's just a sample size 🙂 hehehe.
The bottle is just beautiful, cute, classy and elegant! They are miniatures version of the bigger sized bottle 🙂 so cute! 😍 😍  I bought this set for me to try the several scent of Lancome perfume and I'm happy I did it! because now I know what I really wanted to get this Christmas 🙂 ➡ "La Vie Est Belle" (the one in the middle)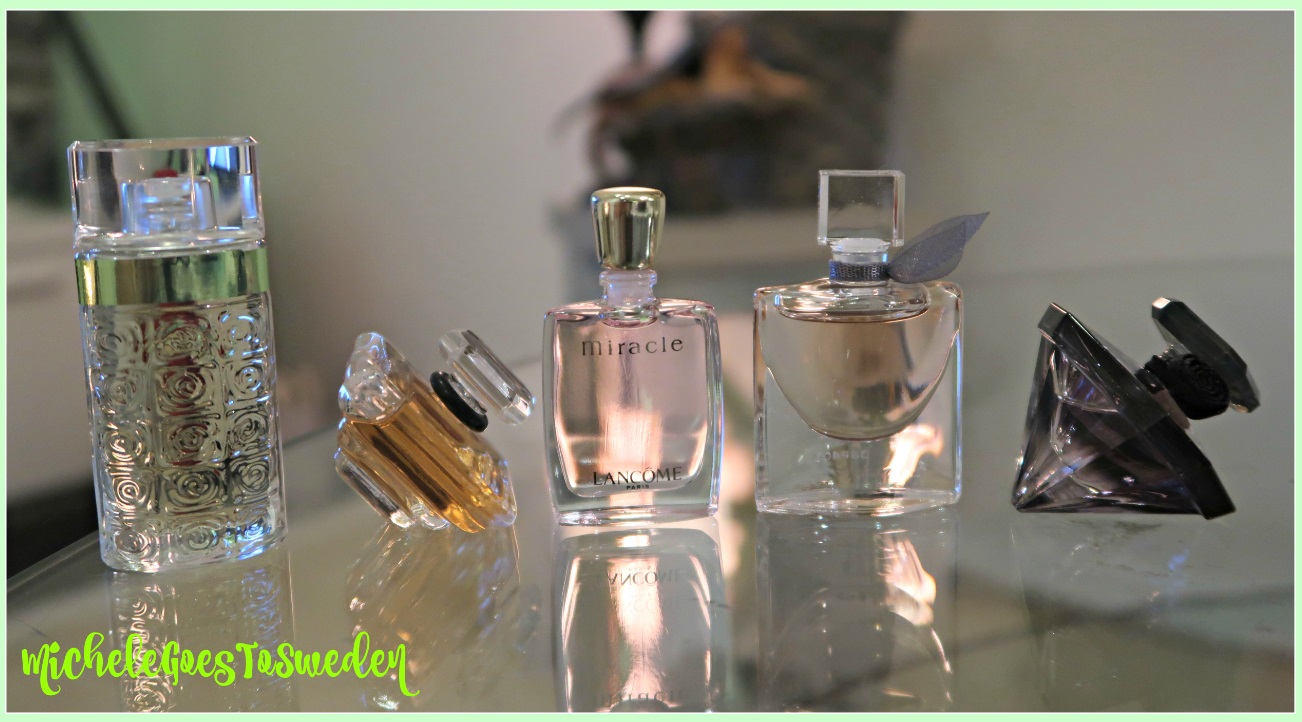 I 💜 💜  mini perfume so adorable!
I found them so cute and perfect to just chuck in into my bag. I will not worrying too much in carrying bigger bottles too LOL! the bottle is so damn cute! and handy!

I'm not good on describing scents/Fragrances haha but I try my best so (crossed fingers👌) I hope I give a justice for each scent LOL!  (from left to right)
O De Lancome EdT ➡ fresh, citrus lemon, musky, flowery scent
Tresor Edp ➡ floral, fruity, romantic scent,  sweet and rose
Miracle EdP ➡ floral fruity spicy, musky,
La Vie Est Belle ➡ floral,musky,sweet,woody,citrus and powdery
La Nuit Tresor EdP ➡ tropical, caramel, sweet, fruity and spicy
The La Vie Est Belle is the one that I like the most! although I  have tried the miracle before but still! the La Vie Est Belle won! The bottle is so cute too it has small grey ribbon around the neck of the bottle.
I found the scent more sweet and romantic but not too overpowering. It's the scent for anyone who like sweet or flowery scents. If you also like a sweet smell with a little muskiness on it ,  then this is a scent for you.  I tried it on me and my husband loves it too! I have received numerous compliments from various people anytime I wear this fragrance 😍 I'll tell you its really so pleasant.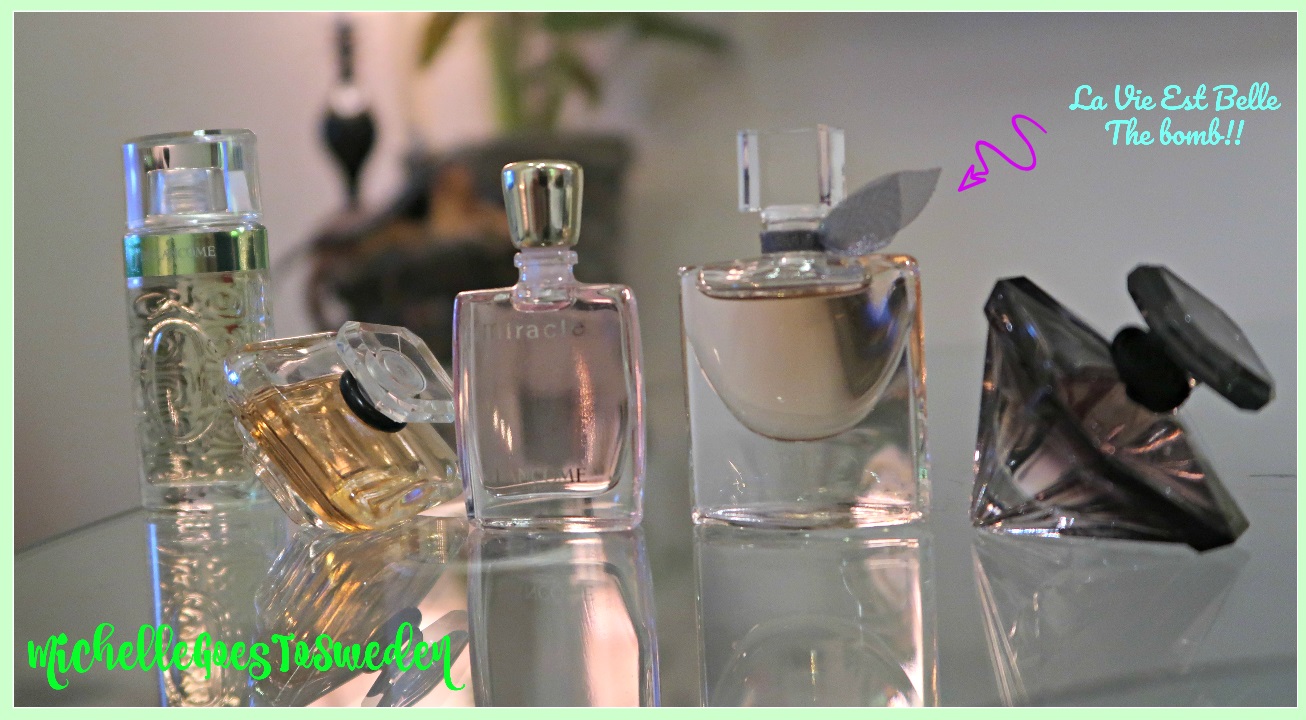 I think this perfume gift set is so perfect this coming Holiday to treat someone special at home, especially with such a variety of fragrances to choose from. At least now! I wont be spending so much on a larger bottle that might not be enjoyed. It is also a great way to try out a new brand of perfumes, but have the chance to sample them all first 💜 !. If you like to buy and try if for your self check the list below for prices range on tour place.
What do you think about this gift set? Do you own one too? Do you think also that this perfume gift set is a fantastic beauty buy this holiday? I would love to hear from you guys!

Want to earn extra income from posting online? Be an affiliate -magpost & share ka lang sa social media mo at kikita ka na.
Sign up here👉: https://invol.co/cl8ic5b
♥ BUY in LAZADA Together Lights Up the Moment : Up to 17% OFF + FREEBIES worth 1499
👉https://invol.co/cl589iq
👉 https://invol.co/cl2k12o
♥ Would you like to shout me a cup of coffee ☕️
https://www.buymeacoffee.com/kyutipieMisay
https://www.paypal.com/paypalme/KyutipieMisay
🍭I have made a Patreon account:
Become a Patron!
https://www.patreon.com/Kyutipie_Misay
SUBSCRIBE ka na please 🙂 libre lang namn hihi Salamat :⬇️
https://www.youtube.com/channel/Kyutipie_Misay
https://www.youtube.com/channel/Kyutipie_Misay
DISCLAIMER: Items were purchase with my own money unless otherwise stated. All opinions are honest and my own!. This post contains affiliate links, which means I may receive a small commission for clicks and purchases made.
I hope you all enjoyed watching my video and if you did please don't forget to tap my back with BIG like 👍 and subscribe if you haven't yet.
PLease leave comment down below. I would be happy to read it all ..💜💋


🌼Support donation🌼
Running a blog & Youtube takes a lot of time, money and effort. Become a part of a selfless patron by buying me a coffee ☕ or sponsoring a post is really a big help! Your support is highly appreciated and it really means a lot to me. I DO Thank you 🙂
☀Other Videos you can watch☀
💋 OUR HOUSE JOURNEY FROM TRIPPING TILL NOW
https://www.youtube.com/watch?v=o0ZTSvATWxw&t=25s
https://www.youtube.com/watch?v=eZbiAYWrcjs&t=307s
https://www.youtube.com/watch?v=nnTJMVCxfI8
💋 MAKEUP TUTORIAL-AUTUMN MAKE-UP LOOK NI INDAY
https://www.youtube.com/watch?v=utTw6xtQB14
https://www.youtube.com/watch?v=N95jCZHVoJI
💋 FOOD RECIPE – HOMEMADE BOTTLED TUYO | GOURMET TUYO
https://www.youtube.com/watch?v=ZkJsKiqB3uk
💋 REVIEW -URBAN DECAY BEACHED PALETTE|TAGALOG Review & Swatches
https://www.youtube.com/watch?v=VFd92whuW64
💋 YOUTUBER TAG – MADAMING NaIISIP NA IDEA SA KUKOTE
https://www.youtube.com/watch?v=4GKb-Ba-G4s
💋 VIDEO HAULS -UKAY-UKAY BIRTHDAY HAUL | KappAhl, Zara & Ginatricot
https://www.youtube.com/watch?v=tR9r-Ix2Nl8
💋 TRAVEL VIDEO – STOCKHOLM | | Drottningholm & Kungliga Slott | Vasa Museum
https://www.youtube.com/watch?v=4tojuuUnCb4
https://www.youtube.com/watch?v=30Ml6ZR_tB4
☀ FOLLOW ME sa Social Accounts KO:
INSTAGRAM:  https://www.instagram.com/mitchhy2002/
TWITTER: https://twitter.com/mitchhy2002 
https://mitchhy2002.com/
https://mitchhy2002.blogspot.se/
********************************************************************
I'm open for product reviews/ sponsorship/ ads and collaborations etc. please email me at:  MITCHHY2002@GMAIL.COM
********************************************************************
☀ What Equipment I used:
Camera : Canon G7x markII
Software Editor: Adobe Premiere ProCC-2015
Thumbnail Editor: https://www.befunky.com/
❤ See you on my next video ko po 😉
Take care mmmwuah! ❤
********************************************************************